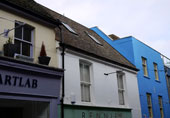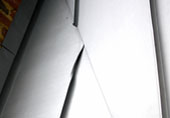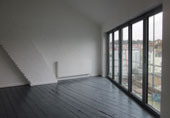 47 Old High Street
Residential
Roger De Haan founder of Saga Group of Companies and 'The Roger De Haan Charitable Trust', created an opportunity for our client with his regeneration of Folkestone by redeveloping the 'creative quarter'.
The Old High Street is at the heart of the regeneration and embraces the linking of conservation and contemporary contextual architecture. Our client, an educator in art, design and communication, was right at home in this fault line of architectural design.
A carefully restored Old High Street façade and roof reconstruction hides a contemporary loft space which provides a hint of the new/old junction with this modern twist on a roof extension. The project is the by-product of Roger de Haan's strategy seeding urban regeneration.
Rear façade elevation which shows the roof extension.
Elevations to the Old High Street remained as existing.
Detail of roof slates.
Interior space with view on Folkestone.